Ricotta can be found in so many Italian recipes.  I have been enjoying this creamy cheese for as long as I can remember.  It was spoon fed to me with a little sugar or mixed into my pastina when I was just a baby.  Ricotta can be eaten any time of day sweet or savory.  That is when this week, I wanted to show just how versatile ricotta can be.  Below are recipes using ricotta for breakfast, dinner and dessert.  I hope you try these recipes and enjoy them as much as I do.
Breakfast – Toast with ricotta, sugar and cinnamon
Scegli tra una grande selezione di Maglie da Calcio Ufficiali di varie marche
This is a dish that my Nonna began making for me as soon as I had teeth.  When I had children of my own I made it for them as well.  And it is still one of their favorite breakfasts.
2 – slices of your favorite bread toasted
2 – tbsp ricotta
1 – tsp sugar
Sprinkle of cinnamon
The best part of this dish is its simplicity.  Simply toast the bread, spread 1 tbsp of ricotta on each slice, and then sprinkle with sugar and cinnamon.
Dinner – Eggplant Rollatini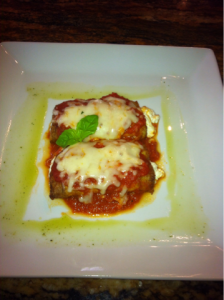 2½ cups fresh ricotta cheese
2 medium eggplant, about a pound each

Salt and pepper

½ cup olive oil
4 eggs

All-purpose flour

1 cup grated Parmigianino Romano cheese
3 tbsp fresh Italian parsley, chopped

8 oz shredded mozzarella
8 fresh basil leaves, optional
½ cup pesto
1 ½ cups tomato sauce
Begin by removing the skin of the eggplant with a peeler and then slice the eggplant as this as possible lengthwise.   We use a mandolin in order to get nice thin even slices.  Heat ½ cup olive oil in a frying pan.  In one flat dish put enough flour to completely cover the bottom, in another lightly scramble 3 of the eggs with salt and pepper.  Then take a slice of eggplant, dredge in flour, dip into egg mixture and fry in olive oil until golden brown.  When eggplant is cooked place them on a large platter lined with paper towel in order to soak up any excess oil.
In a bowl combine ricotta, salt, pepper, one egg beaten, chopped parsley and a cup of grated cheese.  Mix until combined.  In a baking dish add enough tomato sauce to just barely coat the bottom.
Take a slice of eggplant with the narrow side towards you, add a tablespoon of the ricotta mixture in the middle of the eggplant then top with about a teaspoon of pesto sauce.  Fold the narrow end of the eggplant over the ricotta mixture and roll into a log.
Place into the baking pan.  Repeat until the pan is full.  Top each rollatini with a tablespoon of sauce.  Sprinkle with grated cheese and shredded mozzarella.  Not too much!!!  Just enough to make the top a little gooey.  Bake in the oven at 375 degrees for 15 to 20 minutes.  I would cover it with foil for the first 10 and then remove the foil to allow the mozzarella to brown.
Serve it by itself or with a side of pasta.
Dessert – Chocolate Espresso Ricotta Pudding
We actually began making this dessert after seeing it in some heath magazine, except it didn't have the cream or the chocolate.  We added that in after we made it once and realized it was missing something…like flavor.
Ingredients:
2 pounds whole milk Corrado's ricotta cheese
3/4 cup powdered sugar
2 tbsp instant espresso
3 tbsp cocoa powder
1-cup heavy cream (cold)
3 tablespoons coffee liquor or brandy
Blend ricotta, sugar, cocoa and instant espresso in a food processor. Add cream and liquor then process until smooth.  Put the mixture into six or eight dessert cups. Cover with plastic and refrigerate until well chilled.  To serve, shave a little chocolate on top add a few lady finger cookies or amaretto cookies and enjoy.