Cooking for a crowd during a holiday BBQ is always a challenge.  This full proof recipe will give you tender delicious ribs and no stress or heat of hanging over the grill.  These ribs will be the hit of your next party.
Ingredients:
4 racks Baby Back Ribs
1 cup yellow mustard
2 – 12oz bottles of beer
Rib rub
BBQ Sauce
Process
Preheat your oven to 250 degrees. Remove your ribs from the package, rinse under cold water and pat dry.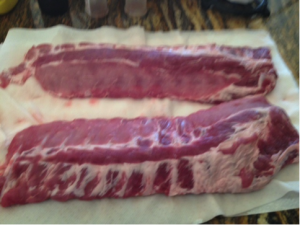 In a bowl combine yellow mustard and the beer.  It should form a thick liquid that resembles paint. Using brush paint the mustard mixture onto the bottom of the rib racks.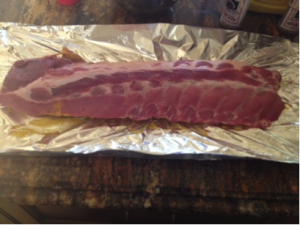 Sprinkle your rib rub generously over the mustard, and then gently pat the rub onto the ribs.
Turn the rib racks over and repeat.  After the ribs are coated its time to prepare the foil bag.  Take an aluminum foil sheet approximately 4 inches longer than your rib rack and double the sheet.   Place one rib rack on the sheet and then top with two more sheets of foil of the same length.  Fold the foil snuggly around the rib rack leaving one side open.  Pour 1oz of beer into the open end and seal it up.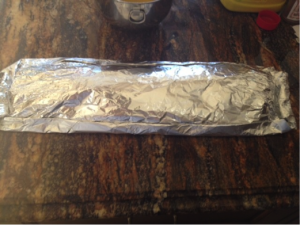 Repeat for all of the racks.  Place the foil wrapped racks on baking sheets (you should be able to put two racks on one sheet), and put in the oven at 250 degrees for three hours.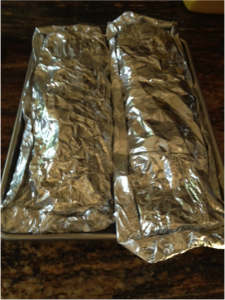 You can now drink any remaining beer. After three hours remove from the oven and allow to cool for a few minutes.  Open the foil pouches (be careful contents may still be very hot), and turn the rack over.  On the bottom of the rack is a membrane the can sometime make the ribs tough.  You will see that by cooking the ribs slowly that the membrane has begun to pull away from the rack.  Using a napkin to grip a corner pull the membrane from the bottom of the rack.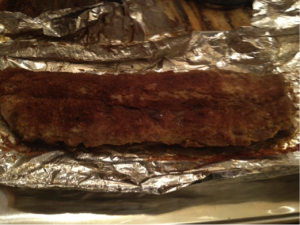 Now place the racks on a platter and wait for your guests to arrive.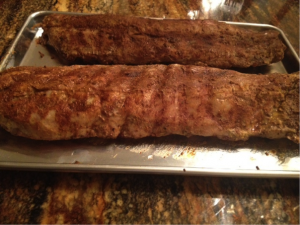 When you are ready to eat set your grill on medium heat.  Brush the ribs with your favorite BBQ sauce and slowly heat the ribs on the grill.  The goal at this point is just to warm the ribs and turn the BBQ into a glaze.  To serve cut the racks into two rib portions with a side of cole slaw and corn on the cob.