This is a great summer time dish that can be grilled outdoors or sauted on a stovetop.  The salsa is sweet, refreshing and has a touch of heat.  And the best part is you can serve the tilapia casual as a fish taco or serve elegantly for a romantic dinner.  Either way it is delicous and easy to prepare.
Ingredients
3 – Tilapia filets
3 – tbsp cajun spice
½ cup diced pineapple
½ cup diced peach
1 –small red onion diced
2 – jalepeno peppers diced (no seeds)
1 – avocado
Juice of one large lime or two small
Olive oil
Salt & pepper
3 – 6" corn tortilla
Process
To make the salsa, combine pineapple, peach, red onion, jalapeno, lime juice in a bowl.  Then add a heavy drizzle of olive oil and salt and pepper.  Allow this to marinate in the refrigerator for at least a hour or two.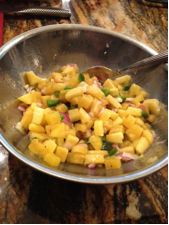 Season the tilapia fillets on both sides with the cajun spice.  Saute in a pan with a little olive oil or grill on the BBQ until just cooked.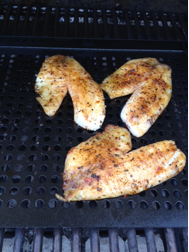 Maybe two minutes on each side.  To serve warm the tortillas in a pan then place the tilapia fillet inside and top with the salsa and a few slices of avocado.  I also like to put a few arrugala leaves for some crunch.  It can also be served elegantly just see the picture below.  This is a great recipe for a BBQ because the salsa can be made ahead and you can allow your guest to make their own tacos.  You can even get more inventive with the toppings