Ingredients
1- 6lb boneless Pork loin butterflies
5oz – Pancetta diced small
1 cup finely chopped shallots
4 cloves chopped garlic
3 cups sliced mushrooms (crimini or Portobello)
8 cups fresh baby spinach
½ lb shredded Danish fontina cheese
6 tbsp Extra Virgin Olive Oil
Marsala Sauce:
1tbsp butter
1 shallot chopped
1 ½ cups marsala wine
2 cups chicken stock
pan drippings from roast
3 tbsp butter rolled in flour
Procedure
Make the stuffing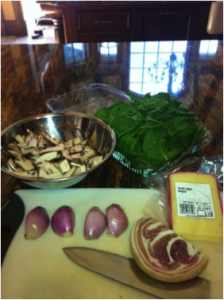 Sauté pancetta in 2 tbsp olive oil until almost crispy.  Then add shallots, garlic and cook until translucent.  Add sliced mushrooms, salt, pepper and cook until tender.
Then add fresh spinach plus another pinch of salt and pepper and cook until wilted.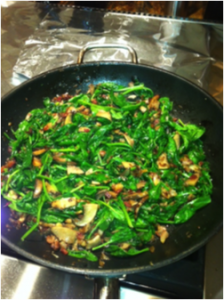 Remove from heat, put in a bowl, and allow to cool for 3 minutes, add cheese, and mix well.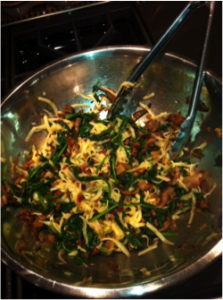 Stuffing the loin
Preheat your oven to 375 degrees.  Take your loin and open it up, salt and pepper generously.  Add the filling in the center of the loin, leaving a 3 inch border all the way around.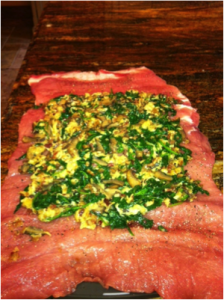 Roll the loin starting near you and roll away from you keeping the loin as tight as possible.  Tie the loin with string every inch to inch and a half.  See the photo below.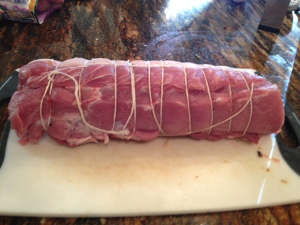 Salt and pepper the exterior of the loin.  In a large sauté pan add 2 tbsp olive oil and brown the exterior of the loin turning on all sides just until browned.  Place the loin into a roasting pan and put into the oven and cook until meat thermometer reaches 140 degrees.   Remove from the oven, tent with foil and allow to rest for 10 minutes.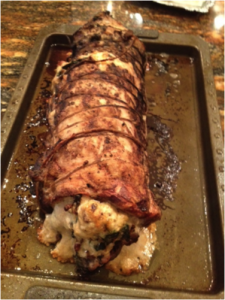 Making the Marsala Sauce
Saute shallots in 1 tbsp buttler and cook until translucent.  Add marsala wine and bring to a boil allowing alcohol to burn off.  Add Chicken stock and pan drippings then reduce for 8 to 10 minutes.  Lastly wisk in the butter rolled in flour and allow to thicken until the sauce coats the back of a spoon.
Slice the loin into one inch thick slices and serve with the marsala sauce and your favorite potato side dish.