Fruit always tastes great on the grill.  Most people have never tried it.  Caramelizing the watermelon really tastes great.
Ingredients
1/2  seedless watermelon cut into 1' slices
Drizzle balsamic glaze
2 lime juiced
½ cup Extra-virgin olive oil
2 cups baby arugula
2 scallion finely chopped
½ lb Feta cheese sliced into 1/8" thick slices
Kosher salt and cracked black pepper
1/8 tsp cayenne pepper
Directions
Stand the watermelon half cut side down on a cutting board and slice on the rind, into 1" thick slices.  In a bowl, mix a ¼ cup olive oil and the cayenne pepper.  Brush onto the watermelon slices.
Heat your grill or grill pan to medium-high heat.  Place watermelon onto hot grill. Grill 2 minutes on each side until grill marks appear.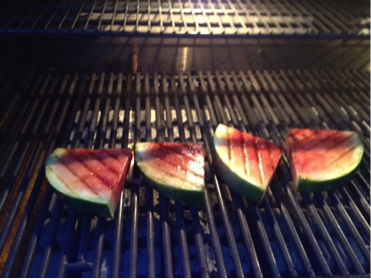 Sprinkle with salt and pepper and place in refrigerator to cool.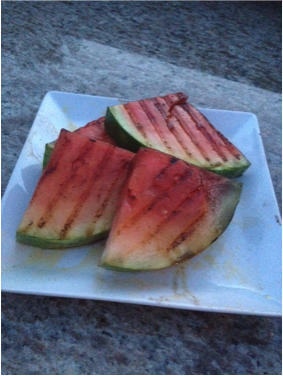 When the Watermelon is cool you can begin to assemble the salads.  Toss the arugula with a drizzle of olive oil and the juice of one lime.   Place about 1/4 cup of baby arugula on a serving plate.  Then put a slice of the watermelon on top of the arugula, and top with a two slices of the feta cheese.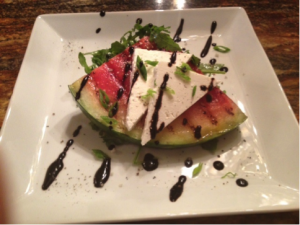 Finish each salad with a squeeze of lime and a drizzle of olive oil and balsamic glaze.  Sprinkle with salt and freshly ground pepper.  Serve immediately.