Ingredients

2 – 1 ½ lb Lobsters
1lb – good quality kielbasa
¾ lb large shrimp shell on
12 PEI Mussels
12 little neck clams
1 large sweet onion roughly chopped
6 tbsp butter
2 tbsp olive oil
3 – 12 oz bottles of beer
2 – ears of corn – cut into 3 pieces
3 – Yukon gold potatoes – cut into large cubes
1 – Jersey Tomato roughly chopped
3 tbsp – old bay seasoning
2 long hot peppers sliced thin
Procedure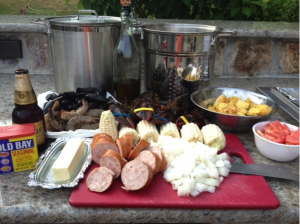 The secret to this recipe is to have drunk lobsters.  Sometimes lobster can be tough when cooked.  I think its because when you throw them into hot water their mussels tighten up before they die.  Making them drunk first relaxes them before you cook them.  To do this just put the lobsters in a try and pout beer over them.  Being scavengers they will drink the beer and flush out any waste in the lobster.  Plus it makes them drunk.  A drunken lobster is a happy lobster.
In a large pot heat 3tbsp of butter and 2 tbsp of olive oil.  When the oil is hot, add the onions, and season with 1 tbsp of Old Bay.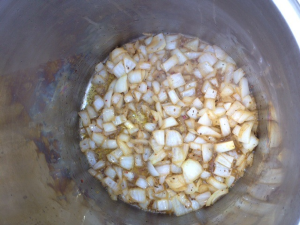 Sauté for 3 or for minutes, then add the Kielbasa and hot pepper, cook just until the Kielbasa begins to get some color.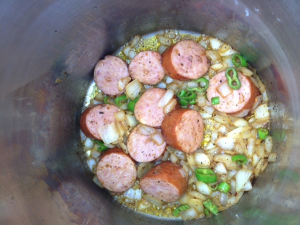 About 3 or 4 minutes more.  Now add the potatoes and the corn.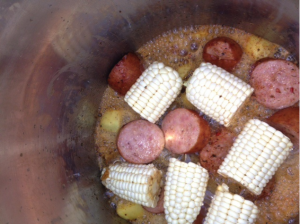 Season with another tbsp of Old Bay.   Put the two drunken lobsters into the pot, pour 1-½ bottles of beer over them and add 3 tbsp of butter.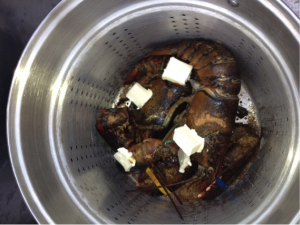 Cover and cook for 5-7minutes.  Now add your clams shrimp and mussels.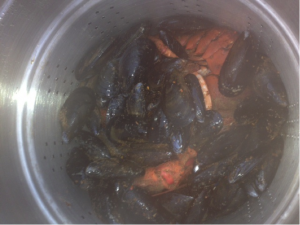 Keep the mussels on top, as they will cook the fastest.  Cover again and cook until the mussels are open.  Once the mussels are open, your shrimp should be a nice pink color and your clams should be open as well.  The lobsters well they should be cooked perfectly as well.  To serve remove the lobsters from the pot and put on a platter.  Dump the rest of the contents of the pot into a large bowl and serve.  We put cups of broth on the table to dip the seafood.  It's so flavorful you will find may of your guests just drinking the broth.