My Mom has been making this chicken since I was a little kid, and I love it now as much as I did then.  This recipe does not get any easier or tastier; in fact it is even better the second day.
Ingredients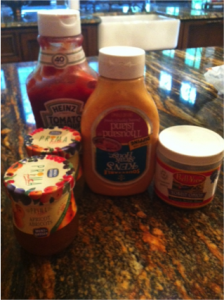 12 Chicken Thighs
4oz Onion flavor soup mix
3 Tbsp Boiling water
10oz Thousand Island dressing
½ cup Ketchup
24oz Apricot preserve
Procedure
In a large mixing bowl add onion flavor soup mix and water; allow to steep for two minutes.  Then add dressing, ketchup, Apricot preserve and mix well.  Next add your chicken thighs and mix well.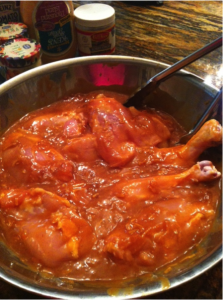 Marinate for two hours or up to overnight.  Preheat your oven to 400 degrees.  Put chicken mixture into a baking dish and bake for one hour and fifteen minutes.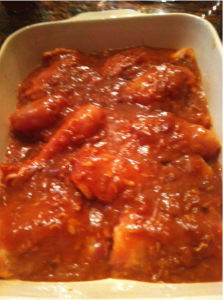 The chicken will be cooked through and the marinate will have thickened into a sweet rich sauce.  Serve with your favorite side dish.  Make sure you make a little extra, as this dish is much better the second day.