Bacon Explosion – Everything tastes better with bacon.  This is something that I love to make for parties it is always a crowd pleaser.  Who doesn't love bacon?
Ingredients
1 – 4lb Boneless Pork Loin Butter filed
¾ lb sweet sausage meat
¾ lb hot sausage meat
¾ cup BBQ Sauce
1 Spanish onion sliced thin
2 tbsp butter
2 tbsp olive oil
1 cup shredded cheddar cheese
2lb bacon
½ cup light brown sugar
Butchers twine
Salt and Pepper
Procedure
Take your butter flied pork loin and place on a cutting board or other hard surface.  Using a meat mallet lightly pound the meat in order to thin it out a little bit.  In a sauté pan on high heat, melt the butter, and then add the olive oil.  Add the sliced onion, salt, pepper, and allow to caramelize.  The trick to caramelizing onions is not to mix them around too much, but don't let them burn.  When they are caramelized put them in a bowl to cool.  In a large mixing bowl add the sweet and hot sausage, the BBQ sauce and mix well.  Then take 1lb of bacon and sauté them in small batches until crispy.  Drain them on a paper towel, and then chop the bacon into large pieces.  To assemble spread the sausage mixture on top of the loin leaving a three-inch border all the way around the loin.  This is important so that when you roll the loin your filling doesn't ooze out.  Next put the caramelized onions, then the chopped bacon and finally the shredded cheese.  Preheat your oven to 275 degrees.  Roll the loin starting near you and roll away from you keeping the loin as tight as possible. Next, wrap the loin using the other pound of bacon, slightly overlapping each slice.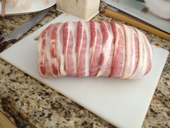 Lastly tie the loin with string every inch to inch and a half, to help the loin keep its shape.  Cover the loin with foil and cook at 275 for three hours, or until it reaches 145 degrees.  Remove the loin and sprinkle with brown sugar, cooked uncovered for fifteen minutes more.  Allow to rest for 10 minutes before slicing.