This recipe is a variation of the classic Sicilian Arancini (rice ball) that my Nonna makes.  It is not difficult but has many steps and is time consuming.  The taste of the Arancici when you are finished will make it all worth it.
Ingredients
1 lb Corrado's Arborio Rice
½ Onion Diced
3 tbsp Corrado's Extra Virgin Olive Oil
¼ cup White Wine
1 tbsp Butter
4 to 5 cups Chicken Stock
3 oz Taleggio Cheese
¼ Grated Cheese
¼ lb Prosciutto sliced thin and diced
2 cups Corrado's Flavored Bread Crumb
2 Eggs beaten
Corrado's Canola Oil for deep-frying
Procedure
Start my making a risotto; the best part is you can do this the day before.  Just follow the instructions on the box, sauté the onion in some olive oil, add the rice and allow to toast for a few minutes, then begin to add chicken stock a little bit at a time.  When your risotto is done put it on a cookie sheet and allow it to cool.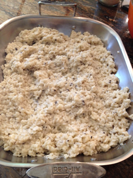 While it is cooling cut the taleggio cheese into small cubes about ½ inch,
Take the prosciutto roll it up and slice it finely creating fine little ribbons.  Next prepare to bread and fry your rice balls.  In a shallow dish put your breadcrumbs and in another dish beat your eggs.
Now you are ready to assemble the Arancini.  You can use your hand, but I prefer to use and ice cream scoop so all of my Arancini are the same size.  Scoop some of the cooled risotto then with your finger make a hole in the middle.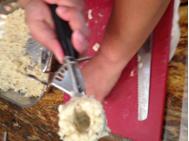 Into that hole pit a piece of Taleggio and a pinch of prosciutto.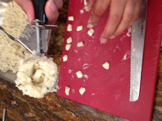 Then move rice from the sides to cover the filling and roll the rice into a ball.

Repeat this until all of the rice is gone.  Next, take the rice ball, roll it in the egg and then move it to the breadcrumb coating it lightly.
In a stockpot heat your oil to 375 degrees.  When the oil is at temperature, using a slotted spoon carefully add a rice ball to the hot oil.  Cook for two to four minutes or until it is golden brown.
Remove the rice-ball from the oil and allow the drain on a paper towel in order to soak up any excess oil.  Repeat this for all the rice balls.  As you become for comfortable you can fry five or six rice balls at the same time.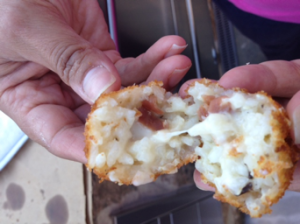 Arancini are best served warm and are eaten with your hands.  Just pick one up and take a bite.  Enjoy.