This is a delicious easy one-pot dish that will make people think you have been cooking for days.
Ingredients
Encuentra una amplia selección de camisetas de fútbol en tus favoritos clubs y compra las camisetas de fútbol para equipos que necesitas.
8 – Corrado's Pork Braciole
4 tbsp – Extra Virgin Olive Oil
6 springs fresh thyme
2 cloves garlic – smashed
1 Spanish Onion thinly sliced
2 bay leaves
1-½ cups chicken stock
1 28oz can Corrado's Peeled Tomato
2 tbsp Balsamic Vinegar
Salt and Pepper to taste
Procedure
Preheat your oven to 350 degrees.  In a large sauté pan heat olive oil, thyme and garlic.  When hot begin to sear the braciole, about two minutes on each side.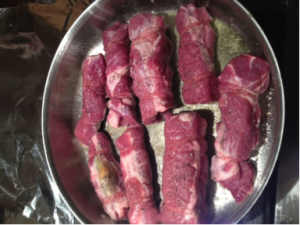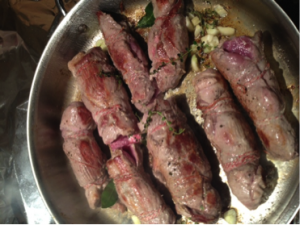 Remove the braciole and add the onion and bay leaves, cook for two minutes more.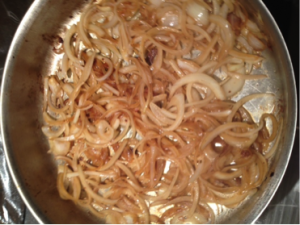 Then add chicken stock and deglaze the pan (that mean to scrape the bottom of the pan with a spoon and scrape up all the good flavor).  Next add the peeled tomatoes, vinegar and add the braciole back to the pan.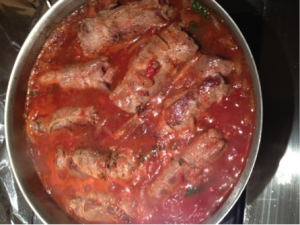 Turn up the heat and bring to a simmer.  Cover the pan and put in the preheated oven.  Cook for 45 minutes, or until very tender.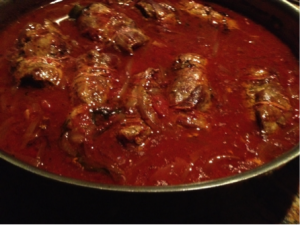 To serve, remove the string from the braciole and cut into 1" slices.  Serve on a bed of soft polenta with lots of the wonderful braising liquid.  Enjoy!!