For years we have all had egg-nog around the holidays, spiked with rum and served in paper cups once the six punch bowl glasses were gone.  A few years ago a customer brought me a bottle of Coquito around the holidays.  He said that it was customary to make the drink at Christmas time and share it with friends.  I thoroughly enjoyed the drink, it was rich but not too heavy and it had a subtle tropical flavor that made me forget there was snow on the ground.  It was amazing how it was like egg-nog but so different.  When I saw him again we spoke more about it and he gave me his recipe.  This is a short cut version to the recipe using store bought egg-nog.
From Wikipedia – Coquito is an eggnog-like alcoholic beverage traditionally served in Puerto Rico. It is made with rum, coconut milk, coconut cream, sweet condensed milk, cinnamon, nutmeg, and cloves. The drink is commonly associated with the Christmas holidays, where it is traditionally served along with other holiday food.
Ingredients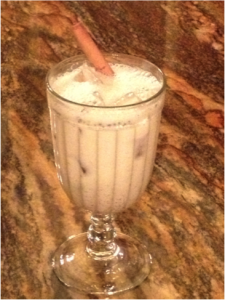 1 qt Egg-nog
10 oz cream of coconut
2 tsp ground cinnamon
2 tsp vanilla extract
¼ tsp ground allspice
1 tsp ground nutmeg
1 to 1 ½ cups of your favorite rum
Cinnamon stick for garnish
Procedure
Mix all ingredients in a blender, bend for 15 to 20 seconds. Chill, and then serve on ice garnished with a cinnamon stick.  Most importantly enjoy with family and friends.
Happy Holidays