An elegant recipe that definitely "jumps in the mouth", is easy to prepare and will impress your friends or loved ones.  My version is not a traditional preparation but all the components of the dish are there.
Ingredients
8 – Veal leg cutlets – pounded
6 leaves Sage
¼ lb Sliced Prosciutto diced
8 thin slices Fresh Mozzarella
½ cup White wine
¼ cup Flour
1 Shallot diced
1 1/2  cup Veal or chicken stock
6 to 8 tbsp Olive oil
Salt and Pepper
1 tbsp Butter
Procedure
First take your cutlets and pound lightly with a mallet to tenderize, and then dredge in flour seasoned with salt and pepper.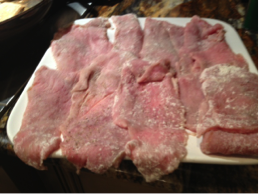 In a sauté pan add 3 tbsp of olive oil.  Begin to brown the veal cutlets on both sides then remove from the pan and set aside.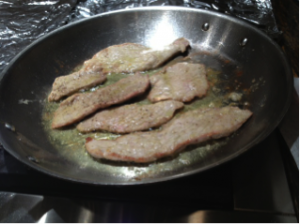 Add another 2 tablespoon of oil to the pan and add the shallots and diced prosciutto.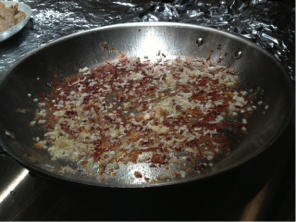 Cook until lightly browned.  At this point add the white wine and deglaze the pan, scraping all of that great flavor from the bottom of the pan.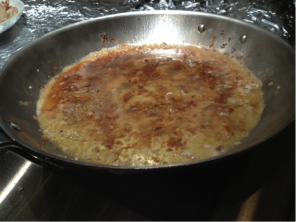 Next add the veal or chicken stock and bring to a simmer and reduce by half.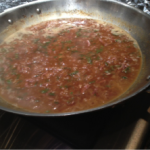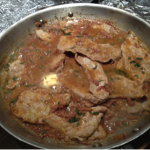 Now add the sage and add back the veal.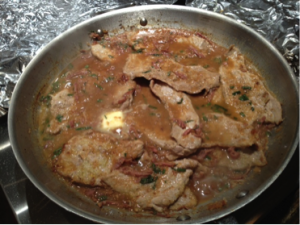 At this time also add the butter, this will give a beautiful sheen to your sauce as well as help thicken it.  Lastly add the thin slices of mozzarella and allow the heat of the sauce to melt it slightly.