The best part of this recipe is you can cook it overnight and not mess it up.  You wake up to the smell of delicous pork.  Don't worry about leftovers, this makes a great sandwich the next day.
Ingredients
1 Pork Shoulder aka Picnic Ham – deboned and skin off – but make sure you have both for flavor
4 to 6 tablespoons extra-virgin olive oil
2 Spanish Onions, thinly sliced
½ bulb fennel sliced very thin
4 stalks celery
4 carrots
2 tsp fresh sage leaves chopped
3 tbsp ground fennel
3 tbsp ground corriander
3 tbsp Salt and Pepper
Procedure
Preheat the oven to 275 degrees.  Also make sure that your pork is out of the fridge,  you always want to slow roast beginning with the meat at room temperature.

Heat 3 to 4 tbsp olive oil in a large saute pan.. Add the onions and fennel, reduce the heat to medium and cook until they begin to carmelize. About 4 or 5 minutes. Add the sage and season with salt and pepper. Cook until the onions and fennel are colored and soft. Remove from heat, allow to cool on the side for later.
Open up your shoulder and season with salt and pepper and some of the spice mixture.  Put the onion and fennel mixture on the pork.   Fold the pork back over the onions and tie closed with kitchen string. Season the outside with salt, pepper and fennel spice. Lay the pork skin back over the top, as the pork roasts the fat will render from the skin and help baste the roast.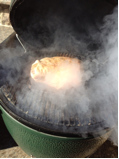 In a roasting pan add the bone and the tops of the fennel bulb and a few carrots and celery stalks. This will create a rack for the roast to rest on and will flavor the drippings from the roast as it cooks. You can also just put it on a roasting rack.  After the roast is cooked you can spoon this delicous juice back over the roast before serving.   Drizzle  the roast with more olive oil.  Cook at 275 degrees for 8 or 9 hours. (This roast was actually slow smoked,  if you have a smoker it is truly amazing) You know it is ready when it pulls away easily if picked at with a pair of tongs. I like to cook this overnight.
When you wake up in the morning your kitchen will smell beautiful. To serve just slice and spoon some of the juice over the top.