Possibly my favorite pasta sauce, next to Grandma's of course. So easy to prepare and it is great hot or cold.
Ingredients
5 cups fresh Basil leaves ‐ washed and dried
1 ½ ‐ 2 cups Extra Virgin Olive Oil
8 to 12 cloves of fresh garlic roughly chopped
1 cup grated romano cheese
½ cup pignoli nuts ‐ (walnuts, pistachios or hazelnuts will also work)
Salt and Pepper to taste
1lb Tesori Pasta ‐ your favorite type, I like Penne
Procedure: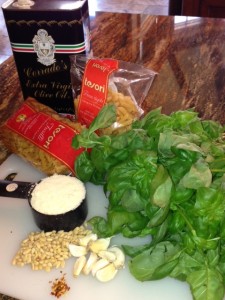 In a food processor, add the nuts, and garlic. Process for about 30 seconds or until nuts and garlic are finely chopped. Now add the basil and a pinch of salt and pepper, process until basil is chopped fine as well.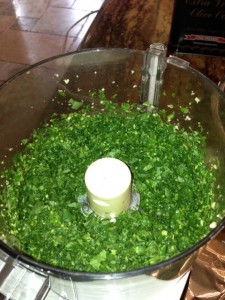 Now, with the food processor running add the olive oil in a steady stream through the feed in the top. Process until the pesto is pureed. Lastly add the grated cheese and process just until the cheese is well mixed.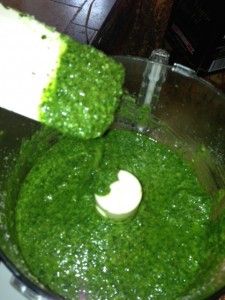 Cook the pasta as per package instructions until al dente. To serve add a few nice spoon-fulls of pesto on top of the pasta and mix until the pasta is well coated.
Store the additional pesto in a container topped with olive oil to cover the pesto. Store in the refrigerator or freezer.
Enjoy