This is not a salsa in the traditional sense since it is smooth.  It is a salsa like your grandmas tomato sauce in fact at first look you might think it is tomato sauce.  Gee I haven't tried this over pasta….Maybe tomorrow.
Ingredients
6 Red peppers
4 to 5 tbsp Extra Virgin Olive Oil
2  Jalapeño Peppers
1 clove garlic
1 tbsp oregano
1/2 cup tomato puree
1 tbsp Sherry vinegar
2 heavy pinches of salt
1 heavy pinch ground black pepper
Procedure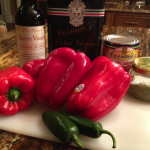 Preheat the oven to 450°F. In a large bowl add the red and jalapeño peppers.  Coat with olive oil, salt and pepper.  Once coated put on a baking sheet and bake in the oven until the skin begins to blister.  In order for them to blister on all sides you have to turn them every 8 to 10 minutes.  It should take about 40 minutes to achieve this.  If you want you can roast the peppers on your grill but you will have to watch them closely so they don't burn.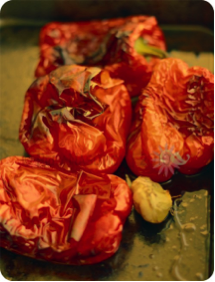 A little char is ok and will add a nice smoky flavor. Once the skin is blistered but the peppers into a bowl and cover with plastic wrap so they will steam and begin to cool.   Once they are cool enough to handle transfer the peppers to a bowl and cover with plastic wrap so they steam as they cool. Remove the skin and seeds from the peppers.  DO NOT WASH THEM UNDER WATER!!  Put the flesh of the peppers into a bowl and set aside.  In a sauté pan heat 2 tbsp of olive oil.  Take the roasted jalapeño peppers and roughly chop, add to the hot oil along with the garlic.  Sauté until garlic turns golden then add oregano and a minute later the tomato puree.  Increase the heat so the mixture begins to simmer.  Allow to simmer for 7 or 8 minutes just so slightly thickens.  Turn off the heat.  Last in a blender combine the tomato mixture and the roasted peppers.  At this time you will also add the vinegar.  Puree until just smooth.  Taste season with salt and pepper and maybe one more splash of vinegar if needed.  If it is too spicy or sour you can also add a teaspoon of honey.
To Use
This sauce is so versatile; I always have some in the fridge or freezer.  I love to spoon it over a piece of grilled fish or chicken.  I also enjoy adding it to sautéed peppers and smothering a steak with the pepper and sauce.  Sometimes I will mix it with some mayonnaise and spread it on a sandwich.  It is also great on fish tacos and can even be whisked with some olive oil and vinegar to make a great salad dressing.  But probably my favorite use is to make a sliced mozzarella and tomato salad and put a spoonful in between the tomato and the mozzarella.  It holds the mozz and tomato together and gives it a great zing.  I am sure you will find your own uses and ideas for this great salsa.