I absolutely love this dish. Cheese, mustard and meat it is just perfect. Follow my steps for perfectly cooked medium rare steak.
Ingredients
4 Sirloin Steaks cut 1 to 1 ½ inches
20 cloves garlic, roasted
1/2-cup extra virgin olive oil
3 tbsp chopped Rosemary
3 tbsp Dijon mustard
1-½ cups grated Parmesan cheese
Procedure
Cut the top off of 4 heads of garlic, put on a sheet of foil. Drizzle with olive oil salt and pepper and wrap over the heads. Roast in the oven at 350 degrees for one hour. To remove the garlic simply squeeze the heads and the garlic will come oozing output put the cloves into a bowl and smash with a fork until it becomes a paste.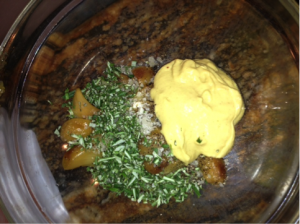 Add rosemary and Parmesan cheese to garlic paste and mash that in as well. Lastly mix in the Dijon mustard. Season, to taste, with salt and pepper.
Preheat oven to 450 degrees and your grill to high heat. Season your steaks well with olive oil, salt and pepper.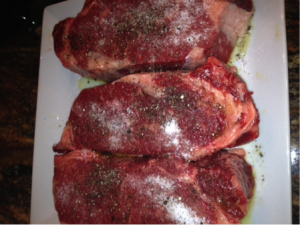 Sear on the grill for 3 minutes on each side then remove from the grill and place on a baking sheet.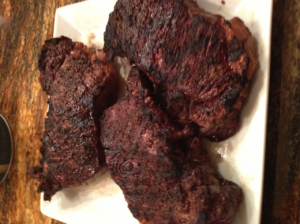 Cover top generously with garlic-cheese coating.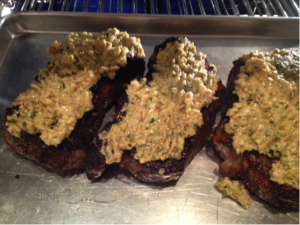 Put the steaks into the oven for 6 to eight minutes or until the crust is well browned.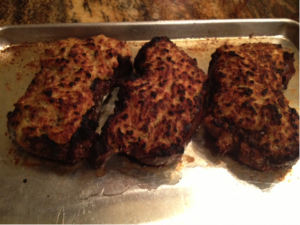 Pull steaks from oven and allow to rest for a few minutes before slicing.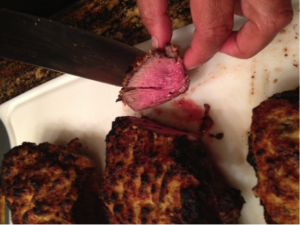 Enjoy!!