A great summertime twist on a classic sandwich. I use sausage patties, broccoli rabe, giardinera and my secret spicy honey mustard sauce. Keep in mind that the relish and the mustard sauce are great on many other grilled meats and sandwiches.
Ingredients
4 Sausage Patties
4 to 6 pieces sliced Italian bread
1 bunch broccoli rabe sauted with olive oil and garlic
2 cups Giardinera drained
¼ cup relish
4 slices provolone cheese
½ cup dijon mustard
½ cup whole grain mustard
¼ honey
1 tbsp Sriracha hot sauce
Salt and Pepper
Olive oil
To make the Giardinera relish. Put the giadinera into a food processer and pulse until chopped into small pieces, add the relish and pulse a few more times. Set asided into a bowl.
Make the Honey Mustard. Combine the Dijon mustard, grain mustard and honey in a small sauce pan and warm until well combined. Add the Sriracha and taste. If you would like it spicier add a little more. Grill the sausage patties until desired doneness and top with cheese. Brush the Italian bread with olive oil and grill until toasted.
To assemble: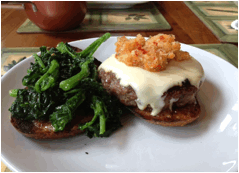 Spread the honey mustard onto the bread and put a generous amount of broccoli rabe. On he other piece of bread spread more honey mustartd and add the sausage pattie. Top the pattied with 1 tbsp of giardnera relish. Put top to bottom and Enjoy!!!