This pasta dish is so simple and so delicious. The sweet taste of the squash, the saltiness of the cheese, the freshness of the lemon zest and mint lastly the richness of the olive oil. You will make this dish over and over again.
Ingredients
3 Green Squash sliced into 1/8 – ¼ inch slices
Olive Oil
10 mint leaves
1 tsp lemon zest
1 lb spaghetti
¾ cup pasta water
3 clove garlic smashed
Riccota Salata or grated Romano
Procedure

Put the sliced squash in a colander and generously salt the squash.


Allow the squash to sit in the colander for 30 minutes. After 30 minutes you will see that a large amount of water has come out of the squash.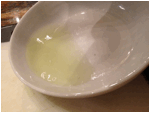 Pat the squash dry on sheets of paper towel. In a large saute pan heat ½ cup of extra virgin olive oil. When the oil is hot begin to fry the squash.


Allow the squash to cook until golden brown and then turn to brown the opposite side.
When you remove them from the pan put them directly into a bowl. Do not drain the oil from the squash. That little bit of extra oil is part of your sauce. Continue to fry all of the squash adding a little more olive oil if necessary. When you are almost done cooking the squash begin to cook your pasta in salted water. After you are done cooking the squash remove the hot pan from the stove and add the garlic to the hot oil.


Allow the garlic to brown and then remove the garlic from the oil. Keep the pan of garlic squash oil on the side. We just want to flavor the oil with garlic flavor. When your pasta is just "al dente" drain the pasta but reserve 1 cup of pasta water to make your sauce. Put the saute pan with the oil back on the stove on medium heat and add the pasta to the pan along with the lemon zest and mint.


Allow to finish cooking in the pan on the stove top. Add ¾ cup pasta water at this time.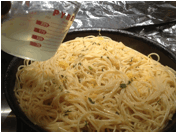 Serve by putting the pasta into a bowl, topping with the squash slices and drizzle with some of the oil that accumulated at the bottom of the squash bown. Add some riccota Salata or grated Pecorino Romano and Enjoy!!