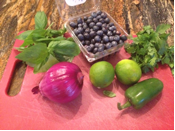 Blueberry salsa?? Have you lost your mind? I origanally saw a version on a cooking show, can't remember which one. But over time I have modified it and made the recipe my own. I remember when I first saw it the Chef spooned it over chicken, but I think pork chops works much better.
Ingredients
1 pint Blueberries
1 or 2 jalepenos roasted and skinned
1 lime juice and zested
1/3 cup red onion finley diced
½ cup loosely packed basil – finely sliced
2 tbsp fresh cilantro finely chopped – no stems
1 tbsp balsamic glaze
3 tbsp olive oil
Salt and pepper
Procedure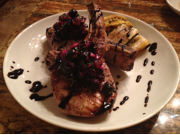 In a food processor add ¾ of the blueberries and pulse 3 or 4 times so that they are just chopped. In a bowl add the red onion, lime juice, lime zest, balsamic glaze, olive oil salt and pepper. Mix well. Now add the chopped blueberries and the balance of the whole berries and gently combine. Last add the basil and cilantro again mix gentlly. Taste and add more salt and pepper as desired. To serve: grill the pregect pork chop and add a heaping spoon on salsa over the top. Garnish with a little more balsamic glaze. Enjoy!!