Sweet spicy and smokey. You cannot go wrong. Give your BBQ a taste of the islands
Ingredients:
6 bone in chicken breast
6 tablespoons vegetable oil,
1/4 cup fresh lime juice
5 scallions chopped
4 habanero peppers coarsely chopped remove or leave the seeds
4 garlic cloves chopped
2 tbsp fresh thyme
1 tbsp minced peeled fresh ginger
2 tbsp brown sugar
1 tsp ground black pepper
¼ cup apple cider vinegar
1 tsp nutmeg
2 tsp cinnamon
1/4 cup soy sauce
1/2 cup apple juice
Procedure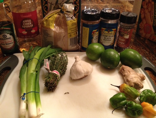 Put all ingredients into a blender. Blend on high until liquified.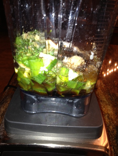 Put chicken into large zip-lock bags. Pour marinade on top and place in the fridge over night.

Preheat grill to med.high. Grill chicken until done. Take the balance of the marinade put into a sauce pot, add 2 tbsp honey and reduce marinade until thickened. When the chicken is almost done cooking brush the sauce over the chicken. Serve with lots of napkins or be prepared to lick your fingers.