What is the biggest problem cooking chicken on the grill? It gets dried out. Not with this technique. I have seen recipies on cooking shows and all over the internet. Beer Can Chicken is a great way to have moist flavorful chicken every time. This is my version on beer can chicken.
Ingredients
1 whole chicken 3 to 4 lbs
2 12 oz can beer
Fresh ground pepper
2 tbsp Lemon Pepper
2 tbsp softened butter
2 cloves garlic minced
4 oz orange juice
1 sprig rosemary
1 sprig thyme
1 sprig oregano
Procedure
Massage your washed and dried chicken with the softend butter and garlic. Sprinkle the inside and outside of the chicken with lemon pepper.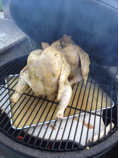 Open beer and drink 3 to 4 oz. Insert rosemary, thyme and oregano into the beer can and top the can off with orange juice. Carefully put the beer can into the cavity of the chicken. Place the chicken on a grate over a drip tray. Pull the legs of the chicken forward creating a tripod so that the chicken can stand up on its own. Preheat your grill to medium heat. Put your chicken on the grill with the drip tray underneath and pour the second beer into the drip tray. This will prevent flareups and burning. Roast for approx 90 minutes or until the chicken internal temperature reaches 180 degrees.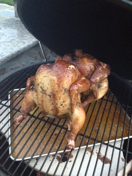 The skin should be golden and crispy, if you see that the skin is beginning to burn before the chicken is cooked through, lightly tent the chicken with aluminum foil. When the chicken is done you will want to present the chicken to your guests standing up on a platter. Allow the chicken to rest for five minutes and then carve on a platter. Enjoy!!