Ingredients
Crust
1 cup unsalted roasted peanut
1-cup graham cracker crumbs
½ cup brown sugar packed firmly
¼ cup cooled melted butter
Filling
1lb cream cheese – room temperature
2 cups chunky peanut butter – must be a national brand, all natural will NOT work
2 ½ cups powdered sugar
1 tsp vanilla extract
1-cup heavy cream
Chocolate Topping
¾ cup heavy cream
8 oz semi sweet chocolate
Procedure
Preheat oven to 350.
To make the crust: In a food processor add peanuts, graham cracker crumbs and brown sugar. Process until they become a fine crumb.
Add the butter and process just until the crumbs begin to stick together. Press the crumbs into a 9″ spring form pan, covering the bottom and about halfway up the side. It is best to use gloves to do this so the crumbs don't stick to your fingers. Bake for 10 minutes and allow the crust to cool.
Make the filling: In a large bowl combine cream cheese, and peanut butter. Using a hand mixer or a stand up mixer combine at medium speed.
Now add vanilla and powdered sugar and mix until combined. In another bowl beat at high speed the heavy cream until it forms stiff peaks.
Then combine the whipped cream and the peanut butter mixture and mix until well combined.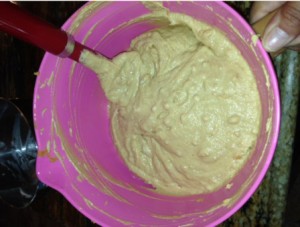 Spoon the filling into the spring form pan and refrigerate over-night.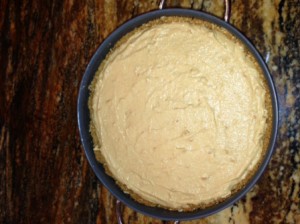 Make the chocolate topping. In a saucepan bring the cream to a simmer and add the chocolate. Reduce the heat and whisk until the chocolate is melted and smooth. Allow to cool so that the glaze is smooth but pourable. When is luke warm pour it over the cheesecake.
Cover with foil and refrigerate for 3 or four more hours.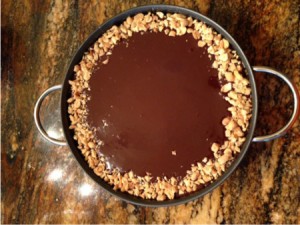 To serve. Cut a big piece and Enjoy!!