Seattle Style vs. Denver Style Chicken Wings – What better way to celebrate the big game than with chicken wings? Seattle style is sweet and spicy with an Asian flair. Denver style is a twist on the classic oven baked with corn meal and the classic blue cheese sauce gets a kick of avocado, jalapeño and cilantro. Try these out and you decide which recipe wins the trophy.
Ingredients – Seattle Style
2lbs Chicken Wings sectioned
2 clove garlic chopped
1 scallion chopped
1 tbsp – olive oil
1 – tbsp Hoisin sauce
2 tbsp Garlic chili sauce
½ tsp Siriacha sauce
3 tbsp Honey
1 tsp worst shire sauce
1 tsp Soy sauce
Juice of half orange
Salt and pepper
1 tbsp Rice vinegar
Sesame seeds for garnish
Procedure
Preheat oven to 425 degrees. Add salt and pepper to chicken wings. Place wings in a wire rack on a sheet pan and bake for 30 minutes.
In a saucepan heat olive oil, add garlic, scallion and cook until golden. Next add ¼ water and the rest of the ingredients. Bring to a boil and simmer until thickened.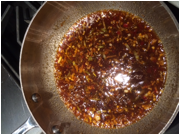 Taste the sauce and adjust taste. If its too hot add honey, not hot enough add some Siriacha. Add the wings to a bowl and spoon some of the sauce over them.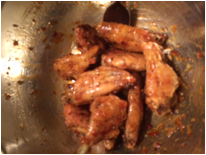 Toss the wings until they are well coated and serve with additional sauce on the side. Garnish with sesame seeds and additional scallion.
Ingredients Denver Style
2lbs Chicken Wings sectioned
1/3-cup flour
1/3-cup corn meal
1 tbsp cumin
3/4 tsp cayenne
1 tsp chili powder
1 tsp salt
2 tsp pepper
½ cup mayo
½ cup sour cream
1 tsp minced shallot
1 jalapeño diced
½ tsp minced garlic
1/3 cup chopped cilantro
1 lime juiced
1 ½ avocado – diced
1/3 lb blue cheese crumbled
Fresh ground pepper
1 stick butter
¼ – ½ cup hot sauce
Procedure
In a zip lock bag add flour corn meal and spices. Mix well.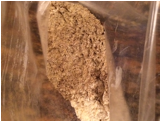 Add the chicken wings to the bag in batches and shake until well coated.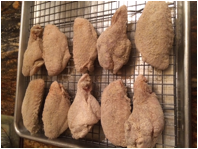 Place chicken wings on wire rack and bake at 425 for about 30 minutes.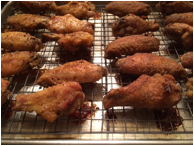 To make the dip: Ina bowl mix sour cream, mayonnaise, shallot, garlic, jalapeño, lime juice, blue cheese and diced avocado.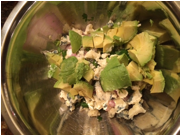 Mix well, and then add the cilantro and fresh pepper.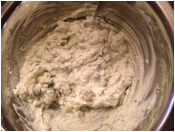 Set aside. In a saucepan melt the butter and hot sauce. Spoon the sauce over the wings and toss to coat.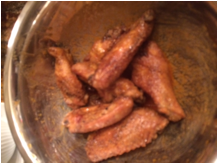 Serve with Avocado Blue Cheese sauce.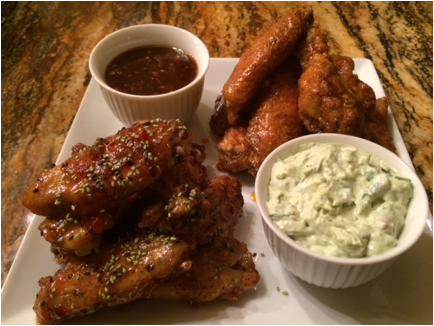 Enjoy the Game!!