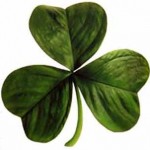 Everyone is Irish on St. Patricks Day and making this traditional dish is easier than you think. Try out my recipe using a traditional Irish beer to cook the corned beef. Just remember to save some beer to drink later.
Ingredients
1 Corned Beef
1 head Cabbage cut into wedges
4 carrots, cut into large slices
4 stalk celery cut into large pieces
4 parsnips cut into large pieces
5 bottles of Irish beer (the one in the black can)
2 cup water
6 clove garlic smashed
3 bay leaves
½ cup brown sugar
Procedure
Preheat the oven to 300 degrees. In a large saucepan, combine the beer, water, garlic, bay leaves and spice packet that came with the meat and bring to a boil. Rub brown sugar all over the outside of the corned beef then place fat side up in a roasting pan fat side up and pour the hot liquid over. Cover with foil and bake for about 2 ½ to 3 hours or until a meat thermometer reaches 165 degrees.
Remove the corned beef from the beer broth and put into another pan. Add enough broth so that the meat is half submerged in beer broth. Cover to keep warm
Strain the remainig liquid into another pot and bring to a boil. To the pot add celery, parsnips and carrots, then simmer until just tender. Next add the cabbage wedges in the broth. Cover and simmer 2 minutes more, until the cabbage is just tender.
To serve place the meat on a platter with the vegetables and boiled potatoes of course. Garnish with some spicy mustard, horseradish sauce and some of that flavorful beer broth. Enjoy!!