Nothing says easter to me like rack on lamb. Try my recipe this holiday of anytime. Elegant easy and delicious.
Ingredients
2 racks of lamb
¼ cup dijon mustard
1 teaspoon grated lemon zest
2 clove garlic finely chopped
1/2 cup shelled unsalted pistachios
1/2 cup breadcrumbs panko
1/4 cup extra-virgin olive oil
2 tsp chopped fresh rosemary
2 tsp mint
Cooking Procedure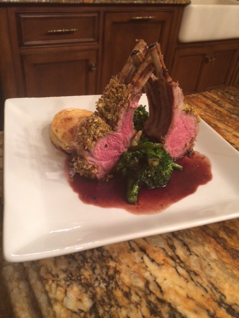 Preheat oven to 400 degrees. Put the shelled pistachios into a food processor and pulse until finely chopped. In another bowl combine panko, garlic,rosemary, mint and lemon zest. Add the pistachios to the breadcrub mixture. Next add the olive oil and gently mix with a spoon until well combined. The mixture should be moist but not wet. Add 2 tbsp olive oil to a large skillet on high heat. Season the lamb all over with olive oil, salt and pepper, put into a hot pan pan fat side down and sear until golden brown, then remove from the pan. Brush the dijon mustard all over the racks of lamb then using your hands, press the breadcrumb mixture all over the fat sideof the rack of lamb and the bottom. Place racks on a baking sheet and roast in a preheated oven until pistachio crust is browned and the lamb has reached 135 degrees, Should be about 20-25 minutes. Remove from the pan and allow to rest tented with foil on a cutting board 5-7 minutes. Cut the rack every two bones being careful not to knock the wonderful crust off. Plate and Enjoy!!